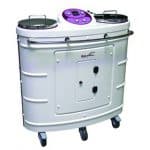 Olea Care has invested in a Reval Ruby mobile showering system, that is designed to shower residents' who cannot access the bathroom independently or with assistance.
Whether incapacitated due to a critical condition, long term illness, or obesity, the Ruby provides unique and uncompromising hygiene levels within the safety and comfort of the residents' own bed.Watch movie online The Transporter Refueled (2015)
Helen Claffey, Managing Director, said "We are always looking at how we can improve our service and the Ruby system will improve the quality of life for a number of our residents. This investment again demonstrates our commitment to ensuring a supportive environment where our residents come first"
The Ruby is compact and highly manoeuvrable and all components are fully integrated into the appliance making it safe and user friendly. The Ruby incorporates anti-scold protection by thermostatically controlled water, which can be pre-set and heated to suit the resident's specific needs. The control panel has a simple interface, whilst the shower hose has a trigger, making the water pressure easy to control and comfortable for the resident or care worker.
All surfaces of the Ruby are smooth, making it easy to clean and disinfect, using its built-in hand operated disinfection applicator, located discretely at the front of the appliance.